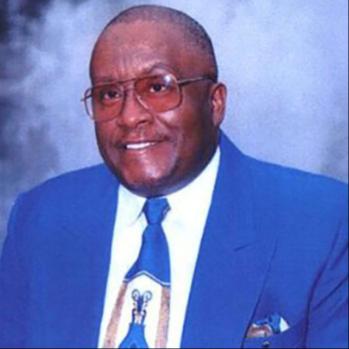 Pastor Robert Welch
Dr. Rev. Robert S. Welch is a natural born singer; the kind of singer whose voice makes you feel something way down deep. Ever since he was a child, music has been an integral part of his life. A native of Lineville, Alabama, Welch was born into a family whose love for the church is more than just a tradition. As a young man, Welch was called into the ministry in 1974 and immediately was called to pastor a church. Pastor Robert Welch served as Senior Pastor of Pleasant Home Missionary Baptist Church in Goodwater, Alabama for 18 years. In 1993, he accepted the call to Pastor Little Friendship Missionary Baptist Church where he has served since 1991.
Dr. Welch is a power-house preacher and a dynamic gospel singer, however his music talents only begin there. He was an on-stage guitar player for R&B and Blues legend, Johnny Taylor and played in clubs all across Alabama. His entire family is musical. His sisters are in their own group called the Mighty Twilights. As a matter of fact, Pastor Welch's son, Tyone, learned to play guitar while observing his dad as he played in the band. Today, Tyrone's own talents are in demand and he was the lead guitarist for the Canton Spirituals for many years.
Dr. Welch has also worked with numerous gospel recording artists such as Troy Ramey & the Soul Searchers. He is also a featured guest on Babbie Mason's Treasured Memories, a LIVE recording that celebrates the old, traditional songs of the African American Church. Welch's soul-stirring rendition of the traditional hymn, The Old Ship of Zion and The Pastor's Prayer are a favorite on the recording and a smash hit on Gospel radio stations world-wide. Welch appears on the project with Inez Andrews, The Barrett Sisters, Willie Rogers, Babbie Mason and her mother, Mother Georgie Wade.
Welch is a natural-born leader and easily assumes the role of helping people who are discouraged, lost and disenfranchised. He is the host of a powerful Leadership Conference held at the Little Friendship Missionary Baptist Church where he pastors. This conference features speakers from the business and church community. His goal is to reach out to people that are interested in becoming effective leaders as well as those wishing to enhance their leadership skills. His Motto is "Only what you do for Christ will last". Whether he is in the pulpit or on the street, Welch considers himself a pastor and a friend.
Welch is an author and published his first book in 2018, entitled, A Lifetime Warranty. In the book Welch communicates the message, "When you choose Christ as your savior, you are guaranteed an eternal relationship with Christ. If I can reach people and bring them to God and even share an encouraging word, then that is my goal." He loves seeing people come to know Christ and is quick to admit that preaching the Gospel of Jesus Christ gives him the greatest joy in life.
In 1998, Dr. Welch received his degree in Divinity from ITC in Atlanta, Georgia. In 2016 he received his Doctorate Degree in Theology from Saint Thomas Christian University in Jacksonville, FL. Welch was the 1st Black member on the Randolph County (Alabama) Hospital Board and served as an Honorary Sheriff. He is the spiritual advisor for Soleco Records, serving as Chaplin at Donald Trimble Mortuary in Decatur, Georgia.
Dr. Welch is married to Mrs. Sylvia Welch and they have two sons, Rodney and Tyrone. Rodney is married to Michelle and to their union they have one son, Chase.
Facebook


Romans 10:9 - That if thou shalt confess with thy mouth the Lord Jesus, and shalt believe in thine heart that God hath raised him from the dead, thou shalt be saved.
The Old Ship Of Zion

Pastor Robert Welch's "The Old Ship Of Zion" is featured on Babbie Mason Radio's The SHOUT Project.