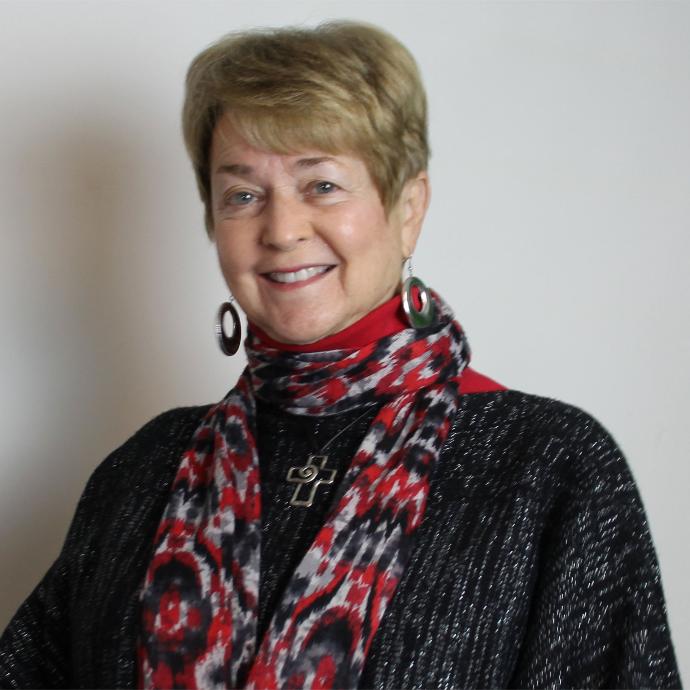 Joan Stevens

Joan began writing and singing songs of praise during her childhood in response to her profound experience of God. Her love for music was nurtured through family sing-alongs as she and her sister, Ellen, gathered around the piano, accompanied by their mother on piano and their father on harmonica. Joan also sang in her high school and church choral groups. But during the turbulent sixties, Joan began a 20-year spiritual wilderness journey away from God and church. Then in 1986, Joan and her husband, Alex, began attending her Aunt Sparkie's home church where their hearts were opened to the transforming power of Jesus Christ. They then began attending Crossroads Presbyterian Church in Stone Mountain, Georgia, where they gave their lives to Christ and decided to go into full-time ordained ministry. After earning their Master of Divinity Degrees at Princeton Theological Seminary in 1999, Joan and Alex served as pastors and chaplains in various settings where Joan used her musical gifts to uplift and inspire others.
Joan's desire to write praise and worship music began to stir again after retiring from full-time ministry. In 2019, she attended her first Inner Circle Songwriting Conference hosted by Babbie Mason. After hearing one of Joan's songs, Babbie encouraged her to pursue songwriting and recording and not to let age stop her from doing what God has called her to do. As a result of Babbie's encouragement and the skills learned at her songwriting conferences, Joan was blessed to have her first professionally-recorded song "Christmas Every Day" aired on Babbie Mason Radio (BMR) in 2020. It was also aired on 90.7 FM New Life Radio and released through several major media outlets.
Joan's latest song "Worthy of All Praise" began airing on BMR in November 2022 and is also available on a number of major media outlets. The song contains beautiful harmony, thanks to gifted backup vocalists, Maggie Sofidiya and Paul Settles. Paul also helped with composing and adding electronic drums and chimes as well as his own unique touch on the keyboard. Rody Inestroza, a gifted producer and musician, further enhanced the sound with guitar and electronic violin.
Joan is grateful to her recording team and to all who have encouraged and supported her musical endeavors, especially her husband, Alex, her Aunt Barbara, and her Aunt Eloise (now deceased) who called Joan "My Songbird." Joan is also grateful to Babbie Mason Radio and New Life Radio for airing her songs, and to Babbie Mason and Rody Inestroza for providing much encouragement and guidance in her musical endeavors. Joan's ultimate thanks goes to God for inspiring the songs she writes and for opening doors for her songs to be shared with others. It is Joan's desire to continue writing songs that will inspire others with the hope, peace, love, and joy found in Jesus Christ. She also hopes to encourage others to step out in faith, despite their age or other perceived challenges, and share their God-given gifts to bless others and glorify God.
Contact: revjoanastevens@gmail.com

Pandora
Facebook
YouTube
Spotify
iTunes
Amazon
Worthy Of All Praise

Joan Stevens' "Worthy Of All Praise" is now featured on Babbie Mason Radio.