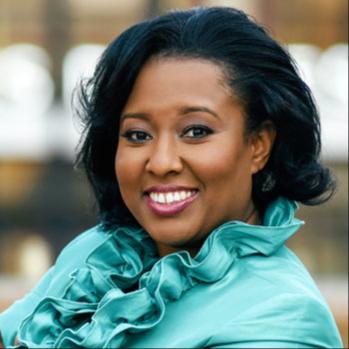 Denise Josiah
Singer, songwriter, and worship leader Denise Josiah was born on the beautiful Caribbean island of Saint Maarten, and has since developed into a passionate psalmist with a heart for God. Now residing in the Baltimore-Washington area, Denise has performed extensively and has been featured at a number of events. She has performed in and around the DMV, across the United States, and has travelled as far as Europe and the Caribbean to share her God-given talents. Growing up as a PK, a preacher's kid, Denise gravitated easily to music and performance. She has never been a stranger to the stage. Her enthusiasm for life and love for music led her to the microphone at the very early age of four. Since then, Denise has blossomed into a powerful, classically-trained soprano.
Appearing on religious television networks, Josiah has served in a number of capacities, including guest psalmist, facilitator, worship coordinator, and choir director. In the summer of 2015, Denise launched her solo music career with the release of her first single "I Surrender". Subsequently, she released her debut CD project in all digital outlets, entitled Songs for the Heart.
Denise Josiah holds a Master's Degree in School Counseling, and undergraduate degrees in Psychology and Spanish, with a minor in Music. Her music and ministry are as multifaceted as her background. She is not one to be confined to any one artistic genre, rather her music and ministry represents a colorful tapestry of musical styles ranging from classical to gospel. With an eclectic foundation, Denise continues to enthrall her listeners with her adept vocal ability and her heart for worship. Her gifts and talents have opened the door to other areas of ministry. She says of her diverse background, "I love connecting God and people. My diverse background has definitely prepared me to use every aspect of what I do to help people with their challenges. My singing, writing, my love for languages, for counseling - my studies in these areas allows me to help people get through the trials of everyday life."
Today, Denise serves alongside her husband, Dr. Donnell Josiah, as an associate Music Director at the Emmanuel-Brinklow Seventh-day Adventist Church located in Ashton, MD.
Denise Josiah is passionate about her love for God, and is fully committed to spreading His love through song, connecting the hearts and minds of her listeners to a God who cares and loves.
Website
Facebook
Twitter
iTunes
SoundCloud


Trust God in EVERYTHING because He always works it all out for your GOOD!
God Meant It For Good
Denise Josiah's song "God Meant It For Good" is featured on Babbie Mason Radio's The SHOUT Project.